Wood Iron Interior Products are water-based and low odor. We incorporate the newest coatings technologies for water-based coatings into our formulations. These Stains and Finishes have been used by contractors and homeowners for over twenty years – proven to be easy to use, beautiful and durable.
Stain Base & Pre-Conditioner
Pre-Conditioner is recommended for all wood types when staining, such as pine and maple. Don't use on oak. Pre-conditioner helps these woods build a finish to more depth, prevent blotchiness and problems caused by cross-grain sanding. Preconditioner also helps control grain raise and enhances grain clarity. It is easy to use. Apply Pre-conditioner evenly, allow 30 minutes to dry, and lightly sand before staining or finishing.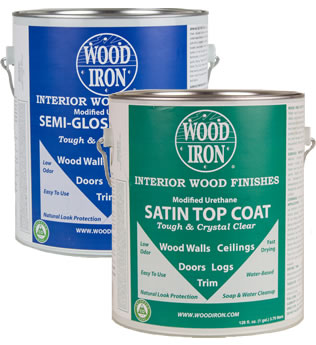 Top Coat
Top Coat is a safe, durable finish. Special characteristics help it go on smooth and easy and stay crystal clear. It dries to the touch in 30 minutes and is sandable within 90 minutes. Finished projects can be packaged in 6 hours and stacked in 48 hours. Wood Iron Top Coat will not yellow, is resistant to most household chemicals and mar, and is non-flammable. Two sheens are available—satin (almost matte or flat) and semi-gloss. For a natural, unfinished look use the satin. If you want more shine use semi-gloss.
Doors and More Finish
A water-based urethane, one-component, fast-drying sealer and finish designed to provide maximum durability for all types of wood doors, trim, stair rails and more. It's fast drying time allows up to four coats to be applied in one day. Unlike most urethane finishes on the market, Doors and More Finish contains ingredients to protect from ultra-violet rays and so can be used on the exterior side of entry doors.
Wood Iron Generations Water-Based Stain & Finish
The Generations Water-Based Stain & Finish is durable and environmentally friendly. It has virtually no odor, is low VOC, is fast-drying and is non-flammable. Soap and water are all that are required for clean up. Generations is compatible with other water-based wood finishes and can be applied over cured oil-based finishes. UV absorbers and stabilizers, water repellent and mildewcide work exceptionally well in Wood Iron Generations to protect wood from damage from the environment.